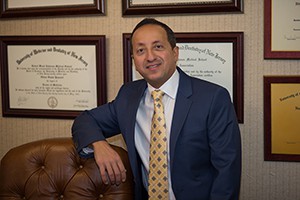 Specialty:
Otorhinolaryngology (ENT)
Address:
115 Franklin Avenue
Nutley, NJ 07110
Undergraduate
Trenton State College 1996
Medical School
New Jersey Medical School: 09/95-05/99
Residency
University of Medicine and Dentistry of New Jersey: 07/99-06/04
I provide my patients the utmost care and integrity, honesty and compassion. I make medical recommendations based on the individual characteristics of each patient's unique situation. Giving the patient the comfort and confidence in knowing that the best possible care has been provided to them.
Professional Societies
Member of the American Academy of Otolarngology
Member of the Faculty of the American College of Surgeons
Licenses held/state
M.D New Jersey
Board Certification(s)
Otolarngology – Head and Neck Surgery
---