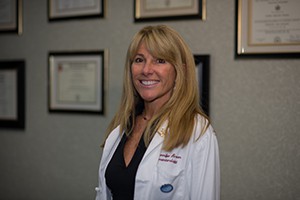 Specialty:
Gastroenterology
Address:
268 MLK Jr. Blvd.
Newark, NJ 07102
Dr. Brown is Board Certified in Gastroenterology & Hepatology, the study of Liver Diseases. She completed her Internship & Residency in Internal Medicine at Saint Michael's Medical Center in Newark, NJ, part of the Seton Hall University School of Graduate Medical Education. She then completed her Gastroenterology & Hepatology Fellowship at the same program, training at Saint Michael's Medical Center in Newark, NJ, Saint Joseph's Medical Center in Paterson, NJ, and the University of Medicine & Dentistry – now Rutgers University – in Newark, NJ.
Dr. Brown has been in private practice for 19 years, with several offices in Essex, Bergen & Hudson counties. She performs Colonoscopy, Upper Gastrointestinal Endoscopy, Endoscopic Retrograde CholangioPancreatography, as well as numerous therapeutic endoscopic procedures, including stent placement for GI malignancies, stricture dilatation, percutaneous feeding tube placement for nutritional support, control of GI bleeding, and endoscopic removal of benign & malignant polyps.
In addition to her clinical practice, Dr. Brown enthusiastically participates in local community health outreach programs, focusing on the importance of GI & liver cancer screening, Hepatitis C screening and treatment, & women's Gastroenterology issues. She is a proud member of the non-profit group Waves of Health which brings basic medical care to the underserved rural areas surrounding the town of Dajabon, located on the border of the Dominican Republic & Haiti. In 2011, Dr. Brown was honored to receive this organization's Humanitarian of the Year award for her commitment & dedication to its medical mission work.
Aside from Harrison Endo Surgical Center, where she is a founding partner, Dr. Brown has priviledges at St. Michael's Medical Center in Newark, NJ and Clara Maass Medical Center in Belleville, NJ.
Practice Philosophy
Dr. Brown is strongly committed to the care, well-being & dignity of her patients. She believes in an active, hands-on approach to making sure that each patient receives the best, most up to date medical care available, regardless of means or background. She is a relentless advocate for her patients' health, and an ardent believer in the importance of communicating with both patients and families, in their own language, to ensure the best, healthiest outcome.
Professional Societies
American Society of GastroIntestinal Endoscopy
New York Society of GastroIntestinal Endoscopy
Major Research Interests
The Human Microbiome & Targeted Genetics for GI Cancer Therapies
Undergraduate
University of Notre Dame , South Bend, IN
Medical School
Kansas City University of Medicine & Biosciences, Kansas City, MO
Internship
Seton Hall University School of Graduate Medical Education
Saint Michael's Medical Center, Newark, NJ
Residency
Seton Hall University School of Graduate Medical Education
Saint Michael's Medical Center, Newark, NJ
Fellowship
Seton Hall School of Graduate Medical Education
St. Michael's Medical Center, Newark, NJ
St. Joseph's Medical Center, Paterson, NJ
UMDNJ – Newark, NJ
Personal Interests
Linguistics, Animal Welfare, Anti-Vivisection
Dogs – all varieties
License
New Jersey
---